GM: Chevrolet Ranks as Top Performance Brand in U.S.
Posted on February 28th, 2012 by Dealer in News
DETROIT - Chevrolet is America's favorite performance brand, with Camaro and Corvette accounting for one out of every three sports cars sold in the United States in 2011.
Chevrolet accounted for 37 percent of the sports-car segment last year, selling 88,249 Camaros, which surpassed its nearest competitor, the Ford Mustang, by more than 18,000 units. That lead is expected to increase when the new Camaro ZL1 goes on sale this month.
Chevrolet accounted for 28 percent of the luxury-sports-car segment in 2011, selling 13,164 Corvettes. Currently the only domestic car in the segment, Corvette more than doubled the sales of its nearest competitor, the Porsche 911.
"With the addition of the Camaro ZL1, there are only a handful of brands in the world with two cars that can match the performance, technology, and excitement of Corvette and Camaro," said General Motors North America President Mark Reuss. "Unlike many competitors' performance cars, the Corvette ZR1 and Camaro ZL1 are appropriate for both daily drivers and track use from the factory - with standard coolers for brakes and drivetrain."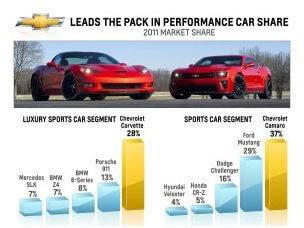 "And we challenge any company to bring two cars to compete with the Corvette ZR1 and Camaro ZL1, dollar for dollar," Reuss said. "They will discover what enthusiasts already know - that Chevrolet Camaro and Corvette are the world's best performance cars for the money."
To demonstrate the capabilities of the Corvette and Camaro, Chevrolet recently tested full-production models with no performance modifications on the "Grand Course" at Virginia International Raceway. The Grand Course configuration is a challenge for production cars because it requires prodigious power, precise handling and tenacious grip to record a fast lap.
In a 2012 Corvette ZR1, equipped with new Michelin Pilot Sport Cup tires, Corvette engineer Jim Mero lapped the Grand Course in 2:45.6 - faster than the published lap time for any production car.
In a 2012 Camaro ZL1, Camaro engineer Aaron Link lapped the Grand Course in 2:52.4 - more than six seconds faster than the published lap time of a 2011 Ford Shelby GT500 on the same track.
Car and Driver Magazine, which conducts the annual Lightning Lap shootout at Virginia International Raceway, called the track "the nearest thing to the Nurburgring's fabled Nordschleife."
"The Grand Course at VIR is an excellent test of all-around vehicle performance," said
Reuss. "Like the Nurburgring, a single lap at VIR tests every aspect of a car, including power, brakes, steering, tire grip and chassis balance. To break a three-minute lap on the four-mile Grand Course is an incredible accomplishment for any car."
The Corvette ZR1 is the most powerful vehicle Chevrolet has ever produced, with a supercharged, 6.2L, LS9 V-8 delivering 638 horsepower and 604 pound-feet of torque. Of all mass-production companies, Chevrolet is the leader in carbon fiber use, with the lightweight material used for structural components on the ZR1 including the front fenders, hood, roof, front splitter, rocker panels and floor pans. With a curb weight of 3,353 pounds, the ZR1 features a power-to-weight ratio of just 5.2 pounds per horsepower. As a result, the ZR1 is also the fastest Chevrolet ever produced, capable of accelerating from 0 to 60 mph in 3.4 seconds, and reaching a top speed of 205 mph. The Corvette ZR1 starts at $112,575, including destination.
The Camaro ZL1 is the most-powerful Camaro ever produced, with a supercharged, 6.2L, LSA V-8 delivering 580-horsepower, and 556 pound-feet of torque. It is also the most-sophisticated Camaro ever, with exclusive performance technologies including Performance Traction Management and Magnetic Ride suspension. Other standard performance features include six-piston Brembo brakes, and coolers for the rear differential, brakes, and transmission. As a result, the ZL1 is also the most-capable Camaro ever, accelerating from 0 to 60 mph in 3.9 seconds, reaching a top speed of 184 mph, and lapping the famed Nurburgring in just 7:41.27. The Camaro ZL1 starts at $54,995, including destination.
Both Corvette and Camaro have also recently been recognized by IntelliChoice as the best overall value in their segments - further evidence that consumers get more performance for their money from Chevrolet.


Founded in 1911 in Detroit, Chevrolet is now one of the world's largest car brands, doing business in more than 140 countries and selling more than 4 million cars and trucks a year. Chevrolet provides customers with fuel-efficient vehicles that feature spirited performance, expressive design and high quality. More information on Chevrolet models can be found at www.chevrolet.com
.